First Time Buying On eBay? 7 Tips and Tricks To Save Money
1. Learn How eBay Bidding Works (and How to Beat It)
Most everyone is familiar with the online auction site eBay. From the listing of a laser pointer becoming the first item ever sold on eBay, to the present day eclectic catalog of over 1.3 billion products, online shoppers can find just about anything on eBay nowadays. Whether you are searching for a Samsung Galaxy S9 smartphone or a pair of Post Malone Crocs, these eBay tips & tricks will help you save money.
Types of eBay Listings
Auctions
Buy It Now
Best Offer
There are a few important things any savvy online shopper should know about each of these listing formats. First, auctions are where you will typically find the best prices on eBay. Second, Buy It Now mainly exist for buyer convenience, as many wish to avoid the time & hassle associated with bidding. Lastly, Best Offer allows a buyer and seller to enter into negotiation over price (up to 5 offers).

With an understanding of the advantage to each eBay listing format and how to filter the search results, the following technique can be used to beat other buyers and win more eBay auctions. A well thought out and implemented bidding strategy is essential to saving money while shopping at eBay.
How to Win an eBay Auction (5 Easy Steps)
Determine the maximum amount you are willing to pay for an item.
Check eBay for auctions ending within the next few days. Add any auctions with bidding below the max price you're willing to pay to your watch list.
With five minutes remaining, open your watch list and check to see if the bid price is below your max price from step #1.
With 30 seconds remaining, if the price is still favorable, proceed to bid but do not confirm your bid just yet.
With the bid confirmation screen still open, proceed to confirm your bid with exactly two seconds remaining.
eBay Bid Sniping Discussion
There are a few important things to consider, when implementing the 5-step bidding system. First, bidding before the last day of the auction only serves to artificially drive up the price. Second, if the auction price exceeds the max price you're willing to pay, simply move onto finding other auctions. Third, even if the auction's current bid price is well below the maximum price you're willing to pay, still submit a bid for your max price. eBay will only charge you for up to a competitor's last highest bid, allowing for a cushion against being outbid at the last second.
eBay Bidding Tips
Bid in increments of $2, as many eBay buyers will bid $1 above the current bid price, allowing you to outmaneuver them at the last second.
Find auctions that are ending at odd times of the day. It is much easier to win an auction at 4 AM than 9 PM.

2. View Sold Items on eBay
It is amazing how many frugal online shoppers are still unaware of this amazing feature. After performing a search, click the checkbox to filter the results for completed and sold items on eBay. This will display eBay sales history, and allow for better insight into the pricing of sold items.

3. eBay Price Tracking
eBay currently has ~25 million sellers and over one billion products for sale. With a vast catalog of items constantly being revised and settings allowing eBay sellers to automatically lower prices after a period of no sales, it is important to use an eBay price tracker to ensure buying at the best price. A price tracker allows shoppers to view eBay item price history & create an eBay price drop alert.
4. Find Misspelled eBay Listings
As anyone who has taken a course in economics knows, the law of supply and demand is the ultimate driver of price. This nugget of knowledge can be applied to eBay misspelled listings, to find items with less competition and ultimately winning eBay auctions at a lower price. The Cassini search engine is less likely to show listings, when eBay typos are present. Anecdotes from Reddit and YouTube show eBay buyers saving up to 50% (or more) with this technique.
Commonly Misspelled eBay Items
Battman
Louis Viutton
Tosihba
Plastation
Microsft
5. eBay Mastercard Rewards
The eBay Mastercard credit card, issued by Synchrony Bank, is a rewards card created for frequent eBay shoppers. The eBay rewards card functions like a store credit card, in that points are accumulated and can be redeemed towards future purchases on eBay.com. Of course, like any credit card, approval is subject to a credit check and the APR rate is typically variable. Learn about eBay Mastercard credit score requirements, credit limits, and more..
eBay Mastercard Perks
No annual credit card fee.
Earn 3x per dollar spent up to $1000, then 5x per dollar spent within a calendar year.
Earn 2x for gas, restaurants, and groceries; earn 1x on everything else.
Earn a bonus of $50, when you spend $200 within the first 30 days.
6. eBay Sort by Price (Lowest First)
By default, eBay's search algorithm will display results by a filter known as "Best Match." While this is great for displaying relevant results for a given search query, it unfortunately hides some of the best eBay deals from the first page of results. By changing the default filter to "Price + Shipping: lowest first," you'll discover deals you may have otherwise never found.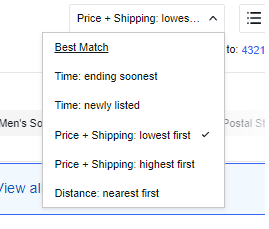 7. eBay Money Back Guarantee Policy
eBay's Money Back Policy protects you for virtually anything bought on the site, and there's no extra cost for coverage. If you're unsatisfied with your purchase for any reason, follow these three simple steps to get your money back:
Reach out to the seller and inform them that there is a problem with your order.
If the seller is unresponsive, contact eBay to step in and help.
eBay will respond within 48 hours, helping you to get your money back fast.